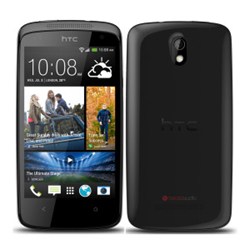 Birmingham, West Midlands (PRWEB UK) 7 August 2013
UK online retailer Mobile Fun have already confirmed a price for the sim-free version of the HTC Desire 500. The handset is available for pre-order on their website.
The recently announced HTC Desire 500 is a mid-range smartphone featuring a quad-core 1.2 GHz Snapdragon processor and 1 GB of RAM. Its 8MP camera takes great shots and the 4.3 inch WVGA touchscreen is great for viewing photos or videos.
4 GB of internal storage may not seem like much, however, the Desire 500's storage capacity can be expanded by up to 64 GB through the use of a MicroSD card.
The HTC Desire 500 comes pre-loaded with Android OS, however, it also has HTC's own Blinkfeed and Sense 5.0 technology and includes Beats Audio technology. Beats Audio will enhance the user's listening experience to hi-fi standards.
Mobile Fun also have a wide range of accessories for the HTC Desire 500 available on their virtual shelves for those looking to protect and enhance the new smartphone.
-ENDS-
About Mobile Fun
Birmingham based MobileFun.co.uk is the UK's leading internet retailer for "everything first"; offering a range of mobile phones, mobile phone accessories.
Mobile Fun has offices in the UK, USA, Germany, Spain and France and delivers products to over 50 countries worldwide.
Mobile Fun were recently named the 'Best Accessory Retailer 2012' at the What Mobile Awards and won the title of 'Online Retailer of the Year' at the Mobile News Awards 2012 for the second year running.
FREE this week at our the sims 2 store:
Not Authenticated: 0093d4e2bd2fff2ce36683bf4e608030065ab3dfe774408be60e56410852fd90219523598f0a8b933f5fa7b6a4d48909e57d4d052585bbc7680a918de6a1b3b627/481cc3d227b4a14ff834f2402860bf8c89f84e939828d8558bced5805b0367a7cab89e52c5f7bc59e16a66527f754d9cab8f0e769f164871cf23422271a05a71